Zensect Hanging Moth Proofers with Lavender Fragrance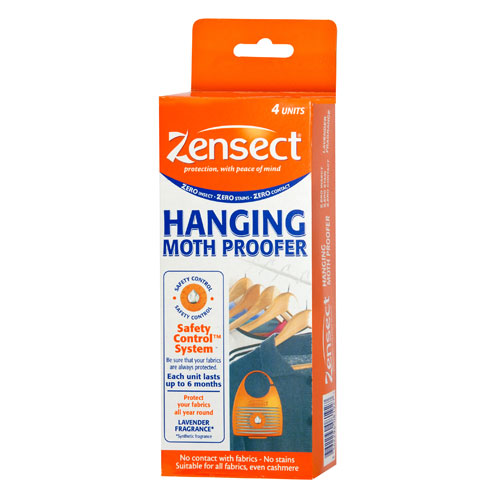 Zero Insect, Zero Stains and Zero Contact with Zensect Hanging Moth Proofers
When you think of moth repellent, do you think of pungent odours, harsh chemicals and stained fabric? Then let Caraselle bring you up to date. Modern repellents let you protect your clothes without compromise.
Now there's no excuse not to protect your wools, silks and cashmeres. Zensect's Hanging Moth Proofers give safe, efficient and long term protection for your wardrobe and the priceless suits, coats and dresses your keep there.
Zensect is one of the leading forces in the battle against clothes moths. These hanging proofers gradually diffuse a potent anti-moth formula into the surrounding air through a plastic shell. This innovative, no contact design means there's no risk to your, your clothes or your loved ones.
Simply slot the proofers next to your hangars to provide six months of protection against adults, larvae and eggs. All that will be left in your wardrobe is your clothes and a lovely lavender aroma. 
Top Tips from the Caraselle Moth Busters
Each pack comes with four units, and we recommend using two in an average sized wardrobe.
Six months is a long time, and it's easy to forget when you're due a replacement. If you order from Caraselle, we'll send an email to let you know when it's time to take action.
It's those hard to clean, natural fibres that are most at risk of becoming a meal. We recommend giving them a dry clean before storing them with any pest defences.
Combine with Zensect Moth Proofer balls to give your drawers the same zero moth, zero stain and zero contact protection.
Weight: 0.125 kg
Remember the upsell from Moth Deterrents is huge. Specialist Deterrents for Food, Carpet and Clothes Moths, plus Garment Covers and Storage Bags to further protect clothing means Customers will be coming back for more so don't be the only Dry Cleaner who doesn't have the products they are looking for!
Click to login and buy the Zensect Hanging Moth Proofers with Lavender Fragrance »