Orphea Moth Repellent Strips for Drawers and Wardrobes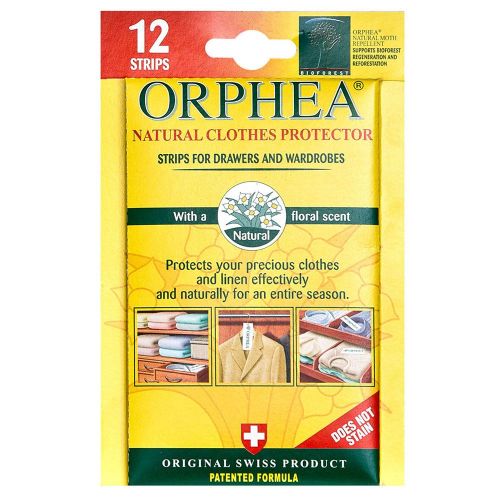 Fresh Smelling Clothes Protection from Orphea Moth Repellent Strips
High quality wools and cashmeres are made to be treasured for years, if not generations. But they might already be ruined if you have a clothes moth infestation.
If you have expensive taste the bad news is, so do clothes moths. Their larvae thrive on the natural fibres found in wool, cashmere, alpaca and fur. Worst of all, the damage is usually irreparable and not covered by insurance.
Orphea Moth Repellent Strips are the preferred product of luxury Italian clothiers such as Piacenza Cashmere and prevents infestation with its unique, natural fragrance formulated from over 400 plant and flower extracts. As well as getting rid of moths, Orphea strips infuse your clothes with a luxurious, floral scent.
Each pack contains 12 strips that can be placed in drawers or attached to hangars and provide great smelling, non-staining and safe clothes moth deterrence for up to 12 weeks.
Top Tips from the Caraselle Moth Busters
Buy enough strips to protect all your stored clothes. We recommend one for every drawer and a dedicated strip for hanging garments like suits, coats and dresses.
12 weeks is a long time, and it's easy to forget when you're due a replacement. If you order from Caraselle, we'll send an email to let you know when it's time to take action.
Larvae find dirty clothes especially irresistable. For best results, we recommend dry cleaning your natural fabrics before using Orphea Salvalana Strips.
For complete protection throughout your home, combine with Orphea's Salvalana Fabric Protector Spray for curtains, carpets, furniture and more.
Weight: 0.050 kg
Remember the upsell from Moth Deterrents is huge. Specialist Deterrents for Food, Carpet and Clothes Moths, plus Garment Covers and Storage Bags to further protect clothing means Customers will be coming back for more so don't be the only Dry Cleaner who doesn't have the products they are looking for!
Click to login and buy the Orphea Moth Repellent Strips for Drawers and Wardrobes »