Acana Moth Killer Clothing & Fabric Spray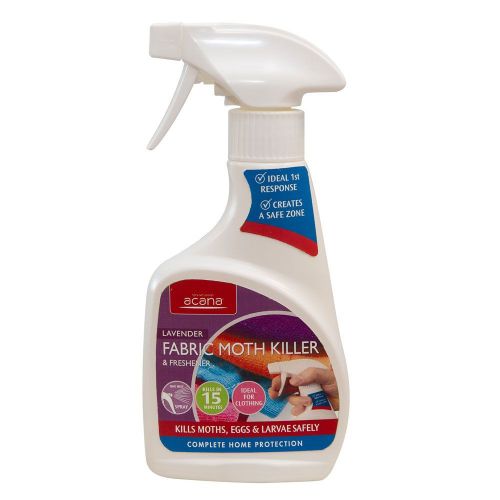 Get Complete Home Protection with Acana Moth Killer Clothing & Fabric Spray 275ml
---
Featured in the October issue of LAUNDRY & CLEANING TODAY – "Every home should have one"
---
Brand New from Acana and exclusive to Caraselle, this is the FIRST RESPONSE when you find a Moth Problem in your home or office.
Unlike the Acana Carpet and Fabric Spray, this new formula can be used DIRECTLY onto clothing and DIRECTLY onto the flying adult moth to Kill and Protect. This fantastic First Response Application kills Adult Moths AND Larvae in just 15 Minutes!
SEE IT - SPRAY IT!
Our new Acana Spray has been specifically formulated using the latest technology. This "Instant Action" product kills moths, eggs and larvae in just 15 minutes and is an ideal 1st Response to any infestation. It additionally treats items ready for storage to create a moth-free 'Safe Zone' to provide reassurance before storing items (Ideal for use in conjunction with "Continuous Action" Acana Sachet & Hanging Moth Killers).
The handy trigger pack is easy to handle - even in confined spaces - and has a fine mist spray. Ideal for the treatment of Fabrics and Clothing and provides a light fresh and clean Lavender Fragrance.
Please Note: NOT RECOMMENDED FOR USE ON SILK, LEATHER & SUEDE
Also suitable for other fabrics such as curtains, carpets and upholstery, this is an extremely versatile product with Acana's trademark Lavender Fragrance for freshness. This handy bottle features an ergonomic design and trigger spray to be used to treat approximately 13.75 square metres.
Remember the upsell from Moth Deterrents is huge. Specialist Deterrents for Food, Carpet and Clothes Moths, plus Garment Covers and Storage Bags to further protect clothing means Customers will be coming back for more so don't be the only Dry Cleaner who doesn't have the products they are looking for!
Click to login and buy the Acana Moth Killer Clothing & Fabric Spray »