Acana Hanging Moth Killer & Freshener Pack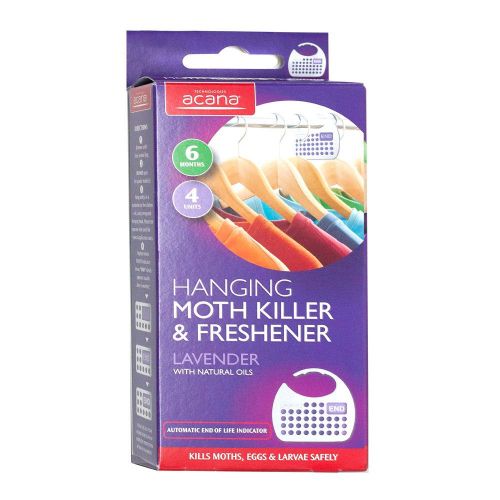 Keep Your Best Clothes Safe with Hanging Moth Killer & Fresheners
Your wardrobe is the home of your most loved clothes. It's also the perfect home for destructive clothes moth larvae. 
Shirts, suits, coats and dresses are our most valuable garments, made from high quality materials for special occasions. Unfortunately, moths have expensive tastes and thrive in natural fibres. When it's finally the right day to wear cashmere, you don't want to find their larvae got there first for a feast.
To keep your best clothes safe and ready to make an impression, you need Acana's Hanging Moth Killer & Fresheners. Simply hook one or two units to the rail in your wardrobe and you'll get six months of pest protection.
The hanging freshener gradually releases a potent solution that doesn't just deter moths; it kills them, along with their eggs and larvae, while infusing your garments with a subtle lavender aroma. When the freshener is depleted, a visual indicator will let you know it's time for a fresh batch.
Top Tips from the Caraselle Moth Busters
Each pack comes with four units, and we recommend using two in an average sized warbrobe. 
Six months is a long time, and it's easy to forget when you're due a replacement. If you order from Caraselle, we'll send an email to let you know when it's time to take action.
Britain's in a clothes moth epidemic. The more clothes you have and the better quality they are, the more you're at risk. Take action now; your insurance probably won't cover the damage.
Combine with Acana's Moth Killing Sachets for ultimate protection for your all your clothes storage.

Weight: 0.150 kg
Remember the upsell from Moth Deterrents is huge. Specialist Deterrents for Food, Carpet and Clothes Moths, plus Garment Covers and Storage Bags to further protect clothing means Customers will be coming back for more so don't be the only Dry Cleaner who doesn't have the products they are looking for!
Click to login and buy the Acana Hanging moth killer and freshener sachets »